BACK TO MAIN LYRICS PAGE
"Nothing But Free"

VERSE 1
© circa 2010 F. Riddell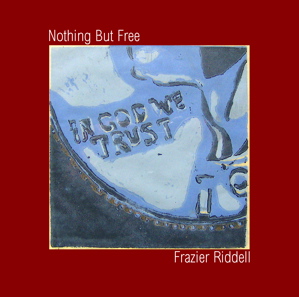 FROM THE CD "Nothing But Free"
• original digital release date 02/12/2011
•10 songs styled from Solo to Combo arrangements
• available in hard copy ( March 2011 )
• & digital at CD Baby, iTunes and other digital sales stores
• administered by BMI - unauthorized duplication is naughty
""""""

Copyright1999-2011 F. Riddell d.b.a. SMALL TOWN MUSIC & CMC ® RECORDS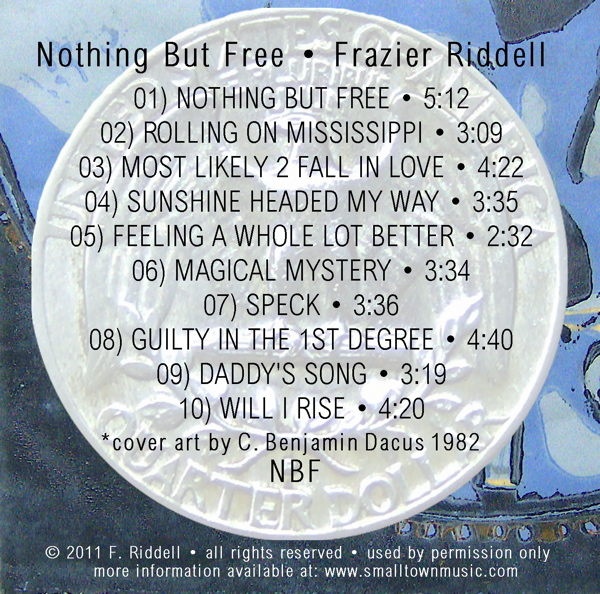 Frazier Riddell - Canton Ms Native. Mississippi original music song writer schooled in Oxford Ms at Ole Miss, that being the University of Mississippi. Graduated in 1984, John F. Riddell, owner of small town music, singer song writer, writing songs from personal experiences in the south, and hoping to change things not only in the south, but the world, finally made it back to Oxford in 2010 to sing on the Thacker Mountain Radio program. Smiles of the heart were huge, when Frazier met Jim Dees for the manieth (not knowing that though & thought it would be 1st) time. Jim was a mainstay at the HOKA. Riddell spent lot's of time at the Hoka in the early 1980's. It was a blast that night, as Riddell billed the show along with Cindy Wolff and her friends Big John on upright bass guitar and Emily Bakker on baritone ukelele. After Thacker, those 3 and Riddell performed on the square in Oxford to a fine enthusiastic crowd at Roosters Blues House. If you go to look up Cindy, remember the spelling. I always want to put Wolf or Wolff instead of Woolf.